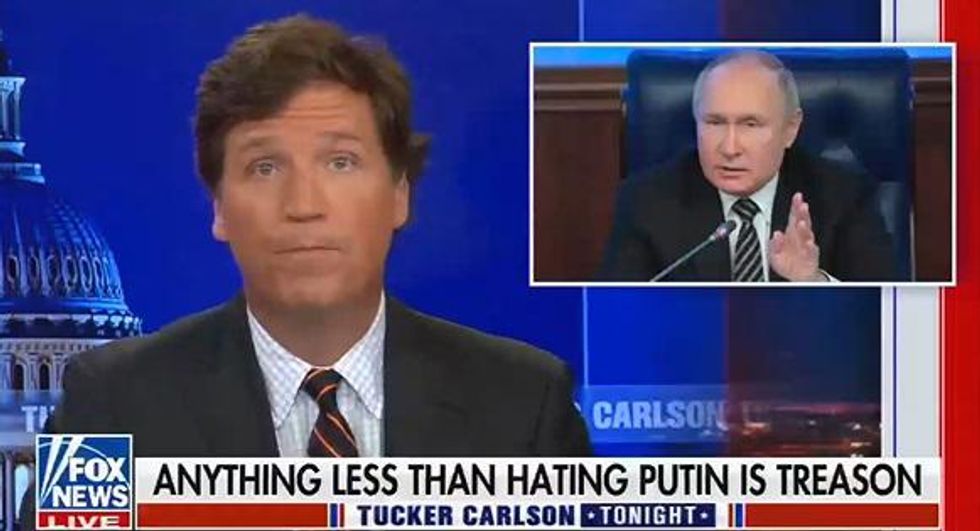 There may be a variety of Russia information in the present day, and it is the entire "Vladimir Putin is cornered and dropping, and that is what Vladimir Putin does when he is cornered and dropping" selection.
In a transfer that won't play nicely along with his individuals, Putin is calling up some 300,000 reservists; it isn't a full draft however does expose a Russian genocide effort that is been battered by losses by the hands of the great guys. (It additionally would possibly take a little bit of time to get them up and operating, based on the analysts.) We are saying it could not play nicely along with his individuals as a result of Putin's maintain on energy requires as little buy-in from the Russian individuals as attainable. He wants them apathetic. (For extra on that, learn the latest Timothy Snyder.) He desires them watching "The Nice Russian Borscht Making Contest." He desires them using the dumb fucking Ferris wheel he built as a present for his individuals which broke down after at some point, actually whereas Russian troops had been operating away from Ukraine with their tails caught all the best way up inside their butts.
(Think about how brokedick your nation gotta be for the president to construct you a Ferris wheel that does not work. "There may be nothing like that in Europe," Putin boasted. Undecided if a group of Russian scientists then unveiled "funnel cake" or "sales space for win stuffed Russian bear!" however possibly.)
In Putin's whiny indignant tackle to his nation this morning, he yelled on the West for supporting Ukraine, and he bragged about his large fashionable Russian weapons, which we're positive most likely work higher than "Ferris wheel."
---
"To those that enable themselves such statements about Russia, I wish to remind you that our nation additionally has numerous technique of destruction, and a few elements are extra fashionable than these of the NATO nations," he stated.
Putin additionally spoke of upcoming (faux) referenda in Ukrainian territories annexed (stolen) by Russia — within the East, Donetsk and Luhansk, and within the South, Kherson and Zaporizhzhia — the place individuals will vote ("vote") to say they love Russia and wish to be a part of it. After that, the idea goes, any assault on these areas is an assault on Russia (not Russia).
Putin desires us all to know that he ain't bluffin'.
"If the territorial integrity of our nation is threatened, we will definitely use all of the means at our disposal to guard Russia and our individuals," he stated. "This isn't a bluff."
Some are calling all these indignant phrases "veiled" nuclear threats, although they do not appear very "veiled" to us.
In response, Ukraine stated "oh fuck off," or nonetheless you say it in Ukrainian. (Вбирайся! based on Google Translate!) The New York Occasions calls Ukraine's response "dismissive and mocking." For instance:
Mykhailo Podolyak, an adviser to President Volodymyr Zelensky, stated Mr. Putin's remarks mirrored the Russian chief's desperation on the 210th day of a battle that he had vowed could be transient and restricted.

"Russians who demanded the destruction of Ukraine ended up getting: Mobilization. Closed borders, blocking banking accounts. Jail for desertion," Mr. Podolyak stated. "All the pieces remains to be based on the plan, proper?"
Saucy! After which:
"Referendums and mobilization within the Russian Federation won't have any penalties, aside from accelerating the collapse and revolution in Putin's Russia," stated Oleksiy Arestovych, an adviser to Ukraine's president, Volodymyr Zelensky.
One other authorities official, Anton Gerashchenko, an adviser to Ukraine's Inside Ministry, stated, "I believe Russia is headed towards its personal 1917," which is VERY TEASING WORDS if you recognize something about Russian historical past or have seen any of the movie variations of Anastasia and assume that makes you an professional.
Zelenskyy, in his tackle to his personal nation final evening, known as any faux Putin votes a "sham." Moreover:
"We benefit from the full help of our companions on this," Mr. Zelensky stated. "So let's keep the strain. Let's protect unity. Let's defend Ukraine. We're liberating our land. And we're not exhibiting any indicators of weak point."
In his speech to the United Nations on Wednesday morning, President Joe Biden pointedly stated that Russia's battle was "about extinguishing Ukraine's proper to exist as a state." He assailed Putin's "irresponsible nuclear threats" and stated "We are going to stand in solidarity to Russia's aggression."
In order we stated, a variety of Russia information, and a variety of solidarity among the many good individuals of the world to see this by way of. However on the similar time, a weak and cornered Vladimir Putin is horrifying as hell.
Could be a disgrace if something occurred in November and America's enemies/Putin's allies had been to tip the steadiness of energy and threaten America's capacity to supply assist.
Who can flip this round for Putin? MAGA fascist shitweasels may assist!
Oh what's that, Democratic Senator Chris Murphy?
There's loads at stake for America in November's midterms. And there is a lot at stake for Ukraine too. And Putin is aware of it.
In a Washington Post interview, Murphy says assist for Ukraine may go away if the MAGA fascists win both the Home or the Senate, however that the Home is the largest hazard. Greg Sargent and Paul Waldman be aware that Senate Republicans are typically fairly good on funding for Ukraine — the Biden administration is at the moment asking for $12 billion extra — however assume if the goons take over within the Home, you'll be able to most likely kiss that goodbye after January. They level to Defense News, which experiences that present Home Republican management will not decide to funding for Ukraine within the occasion of a GOP takeover. Previously conventional Republican organs like Heritage Motion are now telling congressmen to vote towards assist for Ukraine. An increasing number of of them are listening, together with 57 who voted towards assist for Ukraine in Could.
All of which implies the openly declared enemies of Ukraine aren't fairly the outliers they was:
Extra from Murphy:
"I believe there's an actual threat that the persevering with decision would be the final time we provide funding to Ukraine," Murphy stated, noting that that is extra of a risk within the Home, as a result of its members are extra beholden to Trump. […]

"The MAGA wing of the get together, which is the dominant wing, says and thinks a variety of good issues about Putin," Murphy stated to us.
You assume Putin might need baked into his timeline some concepts about how if he can simply hobble by way of to January, the Biden administration might need to sing a distinct tune on serving to Ukraine, if a few of Putin's allies have taken over a part of Congress?
In addition to, as Putin's finest boy Tucker Carlson said a few weeks ago, simply before the weekend when Ukraine began simply completely annihilating Russia and reclaiming territory, "By any precise reality-based measure, Vladimir Putin isn't dropping the battle in Ukraine. He's successful the battle in Ukraine."
Certainly Putin's boys in America may assist him flip all this round if he can simply maintain on till subsequent yr, yeah?
"The Ukrainians are making critical progress and are prone to proceed to make progress into subsequent yr," Murphy informed us. "If Republicans win the Home, and phrase begins to leak out that they're accomplished funding Ukraine, that has probably catastrophic impacts on Ukrainian morale and their capacity to hold the struggle."
Feels like Putin's aim to us. Wager your ass.
[New York Times / Washington Post]
Observe Evan on Twitter right here!

Have you ever heard that Wonkette DOES NOT EXIST with out your donations? Please hear it now, and when you have ever loved a Wonkette article, throw us some bucks, or higher but, SUBSCRIBE!
window.REBELMOUSE_ACTIVE_TASKS_QUEUE.push(function(){
!function(f,b,e,v,n,t,s) {if(f.fbq)return;n=f.fbq=function(){n.callMethod? n.callMethod.apply(n,arguments):n.queue.push(arguments)}; if(!f._fbq)f._fbq=n;n.push=n;n.loaded=!0;n.version='2.0'; n.queue=[];t=b.createElement(e);t.async=!0; t.src=v;s=b.getElementsByTagName(e)[0]; s.parentNode.insertBefore(t,s)}(window, document,'script', 'https://connect.facebook.net/en_US/fbevents.js'); fbq('init', '482172895483293'); fbq('track', 'PageView');
});
window.REBELMOUSE_ACTIVE_TASKS_QUEUE.push(function(){
/*! getClosest.js | (c) 2017 Chris Ferdinandi | MIT License | http://github.com/cferdinandi/getClosest */ /** * Get the closest parent element that matches a selector. * @param {Element} elem Starting element * @param {String} selector Selector to match against * @return Element Returns null if not match found */ var getClosest = function(elem, selector) {
// Element.matches() polyfill if (!Element.prototype.matches) { Element.prototype.matches = Element.prototype.matchesSelector || Element.prototype.mozMatchesSelector || Element.prototype.msMatchesSelector || Element.prototype.oMatchesSelector || Element.prototype.webkitMatchesSelector || function(s) { var matches = (this.document || this.ownerDocument).querySelectorAll(s), i = matches.length; while (--i >= 0 && matches.item(i) !== this) {} return i > -1; }; }
// Get closest match for (; elem && elem !== document; elem = elem.parentNode) { if (elem.matches(selector)) return elem; }
return null;
};
// Vanilla JS
var className="active";
// getting current URL and adding a class on the current menu item
var path = location.pathname.split("https://www.wonkette.com/")[1]; var link = document.querySelectorAll('.menubar a[href="https://www.wonkette.com/" + path + '"]'); if (link[0]) { if (link[0].classList) { link[0].classList.add(className); } else { link[0].className += ' ' + className; } }
// remove class from home-link var home = document.getElementsByClassName('home__item'); if (home[0]) { if (home[0].classList) { home[0].classList.remove(className); } else b)' + className.split(' ').join(' }
// search the closest parent and adding an active class on it too
var closestParent = getClosest(link[0], '.menubar_item-dropdown');
if (closestParent) { if (closestParent.classList) { closestParent.classList.add(className);
} else { closestParent.className += ' ' + className; } }
var socials = document.getElementsByClassName('social-links')[0]; var cloneSocials = socials.cloneNode(true);
var menu = document.getElementById("menubar"); var cloneMenu = menu.cloneNode(true);
var mobileMenu = document.getElementsByClassName('main-menu-wrapper')[0]; var beforeEl = document.getElementsByClassName('menu-global__search-form')[0];
mobileMenu.insertBefore(cloneSocials, beforeEl); mobileMenu.insertBefore(cloneMenu, beforeEl);
if (!document.body.classList.contains('logged-out-user')) { var existCondition = setInterval(function() { var userLink = document.querySelectorAll('.main-menu-item--my_page .link'); if (userLink.length) { clearInterval(existCondition); var membersLink = document.querySelectorAll('#membersLink'); var userUrl = userLink[0].href; Array.prototype.forEach.call(membersLink, function(el) { el.href = userUrl; });
if (document.querySelector('.main-menu-item--designer_editor')) { document.querySelector('.main-menu-wrapper').classList.add('user-admin'); } } }, 500); } else { var existCondition = setInterval(function() { var userLink = document.querySelector('.main-menu-item--login .link'); if (userLink) { clearInterval(existCondition); userLink.href="http://www.wonkette.com/core/users/email_login/"; } }, 500)
}
function copyValue(el) { var thisVal = el.options[el.selectedIndex].text; var closestForm = getClosest(el, 'form'); var paypalAmount = closestForm.nextSibling.querySelector('.paypal-amount'); paypalAmount.value = thisVal; }
document.addEventListener("scroll", createIdleScrollListener(() => { if (window.scrollY > 0) { document.body.classList.add('page-scrolled'); } else { document.body.classList.remove('page-scrolled'); } }));
function createIdleScrollListener(callback) { let ticking = false;
return function onScrollIdle() { if (ticking) { return; } ticking = true; requestAnimationFrame(() => { callback(); ticking = false; }); }; }
});
window.REBELMOUSE_ACTIVE_TASKS_QUEUE.push(function(){
window.addEventListener("scroll", () => { if(this.scrollY > 50 ) { document.querySelector(".rebelbar.rebelbar--fixed.skin-simple").style.display = 'none' } else document.querySelector(".rebelbar.rebelbar--fixed.skin-simple").style.display = 'block' });
});
window.REBELMOUSE_ACTIVE_TASKS_QUEUE.push(function(){
window.REBELMOUSE_STDLIB.loadExternalScript("https://checkout.stripe.com/checkout.js", function() {
if (!Element.prototype.matches) Element.prototype.matches = Element.prototype.msMatchesSelector || Element.prototype.webkitMatchesSelector;
if (!Element.prototype.closest) Element.prototype.closest = function(s) { var el = this; if (!document.documentElement.contains(el)) return null; do while (el !== null && el.nodeType === 1); return null; };
function formsHandling() { var formDonate = document.querySelectorAll('.donation-form:not(.processed)');
formDonate.forEach(function(formEl) { var formEl = formEl;
formEl.classList.add("processed");
formEl.addEventListener("submit", function(event) { event.preventDefault(); });
var donationBtns = formEl.querySelectorAll('.donate-button');
donationBtns.forEach(function(el) { el.addEventListener("click", function(event) { event.preventDefault(); formProcessing(el) }); });
function formProcessing(el) { var btn = el; var payment = btn.getAttribute('data-payment'); var planType = formEl.querySelector('input[name="plan_type"]:checked').value; var checkedOption = formEl.querySelector('input[name="amount"]:checked'); var amount = checkedOption.value * 1; var amountOptional = checkedOption.getAttribute('data-amount'); var dataValue = checkedOption.getAttribute('data-value'); var action;
if ( formEl.contains(formEl.querySelector('.remove-me')) ) { formEl.querySelectorAll('.remove-me').forEach(function(el){ el.remove() }); }
if ( payment == "paypal" ) { formEl.action = "https://www.paypal.com/cgi-bin/webscr"; formEl.setAttribute('target', '_blank');
addHidden( 'currency_code', 'USD'); addHidden( 'cmd', ''); addHidden( 'return', "https://www.wonkette.com/st/Wonkettes_Hero"); addHidden( 'cancel_return', window.location.href);
if ( planType == "once" ) { checkedOption.value = dataValue; formEl.querySelector('input[name="cmd"]').value="_donations"; addHidden( 'business', 'rebecca@wonkette.com'); addHidden( 'item_name', 'Wonkette Donation'); addHidden( 'item_number', 'Just Once');
//add new params addHidden( 'a3', dataValue); addHidden( 'p3', 1); addHidden( 't3', 'D');
} else if ( planType == "monthly" ) { formEl.querySelector('input[name="cmd"]').value="_xclick-subscriptions"; addHidden( 'business', 'rebecca@wonkette.com'); addHidden( 'item_name', 'Wonkette Recurring Donation'); addHidden( 'item_number', 'wonkette_recurring');
//add new params addHidden( 'a3', dataValue); addHidden( 'p3', 1); addHidden( 't3', 'M'); addHidden( 'src', 1); addHidden( 'srt', 52); } formEl.submit(); } else if ( payment == "strip" ) { addHidden( 'entity_type', 1); addHidden( 'plan_type', 1); addHidden('entity_id', getSiteId() ); checkedOption.value = dataValue * 100;
if ( planType == "once" ) { formEl.action = "/core/payment/single_donation"; addHidden( 'plan_name', 'One Time Donation'); stripInit(amount, 'One Time Donation');
} else if ( planType == "monthly" ) { formEl.action = "/core/payment/recurring_donation"; addHidden( 'plan_name', 'Monthly Donation'); addHidden( 'plan', 'donation_' + amount); stripInit(amount, 'Monthly Donation'); }
}
} function addHidden(key, value) { // Create a hidden input element, and append it to the form: var input = document.createElement('input'); input.type="hidden"; input.name = key; input.value = value; input.className += 'remove-me'; formEl.appendChild(input); }
function stripInit(amount, description) { var token = function(res){ addHidden('stripeToken', res.id); addHidden('stripeEmail', res.email); formEl.submit(); };
if (amount) { StripeCheckout.open({ key: 'pk_live_7dJjNGbMgTkHfEasr9FsLcjF', // real //key: 'pk_test_zbMpaIyMyHJ7TLUEheC7q2iS', //test amount: amount, name: 'Wonkette', image: 'https://assets.rbl.ms/16950638/origin.png', description: description, panelLabel: 'Donate', token: token, locale: 'auto' }); } else { window.alert('Select donation amount first') } } });
function getSiteId() { var site_id = null; var inner = document.querySelector('html').innerHTML var str = inner.split('"site_id": '); if( str[1] != undefined ){ site_id = str[1].split(',')[0]; } return !isNaN(site_id) ? site_id : false; } }
formsHandling();
REBELMOUSE_STDLIB.createElementChangeListener(".show-more.js-expand:not(.processed)", (el) => { const keepReading = el; keepReading.classList.add("processed"); keepReading.addEventListener("click", function() { setTimeout(formsHandling, 500) }); });
});
});
window.REBELMOUSE_ACTIVE_TASKS_QUEUE.push(function(){
window.disqus_config = function () { this.page.identifier = "2658318043", this.page.url = "https://www.wonkette.com/-2658318043"; }; var disqusCt = document.createElement('div'), disqus_config; disqusCt.id = 'disqus_thread'; (function () )();
function loadCountScript(callback) { var s = document.createElement('script'); s.type="text/javascript"; s.async = true; s.id = 'dsq-count-scr'; s.src = "//wonkettecom.disqus.com/count.js"; var x = document.getElementsByTagName('script')[0]; x.parentNode.insertBefore(s, x); s.onload = () => callback(s); document.head.append(s); } loadCountScript(script => { /*Add comment Button to all articles*/ REBELMOUSE_STDLIB.createElementChangeListener(".share-panel:not(.js--has-comments)", (el) => { let sharesPanel = el; sharesPanel.classList.add('js--has-comments'); if (sharesPanel.closest('.article__shares')) { let postId = window.REBELMOUSE_BOOTSTRAP_DATA.post.id, postURL = location.protocol + '//' + location.host + location.pathname; addButton(postURL, postId, sharesPanel); } else if (sharesPanel.closest('.widget')) { let thisPost = sharesPanel.closest('.widget'), postId = thisPost.getAttribute('elid'), postURL = thisPost.querySelector('.widget__headline-text').getAttribute('href'); addButton(postURL, postId, sharesPanel); } }); });
function addButton(url, id, el) { var commentBtn = document.createElement('span'); //commentBtn.href = url; commentBtn.classList.add('js--toggleDisqus'); commentBtn.classList.add('disqus-comment-count'); commentBtn.setAttribute('data-disqus-url', url); commentBtn.setAttribute('data-postid', id); //commentBtn.setAttribute('data-disqus-identifier', id); commentBtn.innerText="0"; el.append(commentBtn); DISQUSWIDGETS.getCount({ reset: true }); //console.log(url, id); } REBELMOUSE_STDLIB.createElementChangeListener(".js--toggleDisqus:not(.js--callDisqus-processed), .show-more:not(.js--callDisqus-processed)", (el) => { console.log('run callDisqus()'); var timeOut = 10; if (el.classList.contains("show-more")) { timeOut = 1000; } el.classList.add('js--callDisqus-processed') el.addEventListener('click', function () { setTimeout(function () { let t = el, thisPost = t.closest('article') || t.closest('.js-section-loader-feature-container'), postId = t.getAttribute('data-postid'), postURL = t.getAttribute('data-disqus-url'); document.querySelector('#disqus_thread') && document.querySelector('#disqus_thread').remove(); if (t.closest('.article__shares')) { let postWrap = document.querySelector('.mobile-post-wrapper'); postWrap.appendChild(disqusCt); } else { let afterEl = t.closest('.widget'); if (afterEl) { afterEl.parentNode.insertBefore(disqusCt, afterEl.nextElementSibling); } } console.log('DISQUS.reset', postId, postURL); DISQUS.reset({ reload: true, config: function () { this.page.identifier = postId; this.page.url = postURL; } }); if (t.classList.contains('js--toggleDisqus')) { let disqus = document.getElementById("disqus_thread"); // disqus.scrollIntoView(); } }, timeOut) }); }); // Hide hidden tip-jar, idk why window.REBELMOUSE_STDLIB.createElementChangeListener(".js-keep-reading:not(.js-processed)", (el) => { let keepReading = el; keepReading.classList.add('js-processed'); //keepReading.closest('.mb-2').nextElementSibling.style.display='none'; });
});